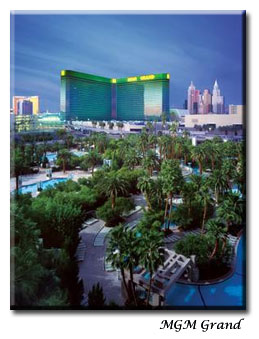 Vegas With Kids? Are You Nuts?
It's easy to see why Sin City is a world created for those 21 years and older. Las Vegas is an oasis of neon, casinos and hedonistic debauchery in the heart of Nevada's unforgiving desert. But rest assured that whenever someone tells you that Vegas is no place for children, 9 times out of 10, they are not speaking from experience.
They are usually grown-ups who want Vegas for themselves. They have had their ankles bruised by runaway strollers. They have had their slot machine hot streaks interrupted by a crying baby. They have seen teens in front of them at the buffet line grab at food with their bare hands. You can probably sympathize with their perspective, but that doesn't take away from the fact that Vegas has more to offer -- in terms of variety -- for families than it does for exclusively for legal-aged adults.
Sure, there are many relics of a more family friendly Vegas from the 1990s that have gone away. The MGM Grand shuttered its amusement park years ago. The Luxor's boat ride is history. Many arcades have been scaled back and simulator rides sold off. More hotels are charging as much as $30 a night for each child. But as a voice of experience I can assure you that my family has had an incredible time in Vegas and that yours can too.
We will get into the many family friendly things to do in Las Vegas, but first let's go over five tips that will truly make your Vegas family vacation unforgettable -- in a good way.
1. Select a family friendly hotel. While you will rarely spend too much time in your hotel, making sure that your family is welcome goes a long way. At the top of the list you will find MGM Grand, The Orleans, Excalibur and Circus Circus. They all have attractive video game arcades along with diversions like a lazy river pool (MGM), a bowling alley and movie theater (Orleans), rides and free kid-friendly performances ( Excalibur and Circus Circus). These hotels also let kids stay in your room for free (as long as you don't surpass the room capacity). Other hotels that may not be as kid-intensive but are still great choices include Treasure Island (with its pirate ship show at night), New York, New York (with Coney Island rides), Stratosphere (with its tower and thrill rides at the top of the observation deck), Paris, Luxor, The Venetian and Mandalay Bay. No hotel will turn away children, but it should be obvious that some go out of their way not to court young families (the best clue is when seemingly reasonably priced hotels like Aladdin will charge you $30 a night for each child). But while some like Bellagio won't allow strollers inside unless you are a registered guest that doesn't mean you shouldn't bother checking them out during your stay. Do it, but do so as a visitor. Just recognize that there are many hotels in a wide price range that are better suited for your entire family. But don't go too cheap. As inexpensive as the hotels in Downtown Las Vegas on Fremont Street or those North of the Strip may seem, try to stay either in the heart of the Strip or at a place just off the strip like The Orleans.
2. Temper your hedonism. Tall tales of kids abandoned in a hotel lobby while their parents gambled away their trip money aren't as exaggerated as they may seem. If you are taking your kids you are accepting responsibilities and sacrifices that go along with that decision. There are plenty of babysitting services available if you do want to go out for a night to gamble, dine alone or catch a show. Just ask at the concierge desk when you get there for a recommendation for in-room babysitting. If you stay at The Orleans you have the luxury of an affordable child-care facility -- as long as you don't plan on leaving the hotel grounds. But it's important to approach this realistically. If you are going to Vegas on a family vacation you will have to check that reckless abandon at the front desk.
3. Time your trip. Why are Vegas hotels so expensive on holidays and Friday and Saturday nights? Well, it's because that's when all of the daytrippers from Los Angeles and nearby areas converge in Vegas. You can have a great time in Vegas over the weekend -- absolutely -- but if you can time your stay during the week you will not only find that you can get more bang for your lodging buck but the lighter crowds will make it easier to do all of the family things that you deserve to experience.
4. Recognize your family's different interests. Staying together as a family is great but if you have more than one child, odds are that they will want to do different things while in Vegas. One might want to ride the roller coasters while another may want to watch a show. One might want to hit the arcade while another might want to watch the Bellagio fountains work their orchestral magic. If you can't do it all and you have another parent or adult with you, there is no harm in splitting up in order to make the trip as memorable as possible. One can go on a historic trek out to see the Hoover Dam while the other catches an afternoon magic show. One can go shopping while the other goes to the Star Trek Experience. There is so much to do, as you are about to find out, that odds are that splitting up might be necessary. Cabs are plentiful. The monorail is now open. Give Vegas the flexibility it calls for and you will have a great time.
5. The cons of walking the Strip as a family. As a parent you have two things to worry about as you walk through the heart of the Las Vegas Strip. It's not the potholes. It's not even crime, as the Strip itself is well-lit and heavily-trafficked. No, the two things to worry about are dehydration and escort service marketing. Vegas is hot, especially during the day and the lack of humidity means that it'll wear on you pretty quickly. They have spritzers (cool fans, shooting out small amounts of water) but keep tabs on your clan. Always ask if they are alright with the heat and don't hesitate to duck into a nearby hotel or store or restaurant if you need a break. And you also have escort services. Down the Strip you will find free newspapers featuring scantily-clad women as well as folks handing out brochures with scantily-clad women. These are for escort services. It's harmless, but if you want to avoid any uncomfortable questions don't walk the Strip. The escort services are peddles away from the hotel entrances so just go with cabs or take advantage of the free valet parking services throughout the Strip hotels (don't forget the tip, though).
Got all that? Great! Now let's find out the dozens of activities Vegas can offer for families.
Go To Vegas Activities for Kids
Go Back To VegasPointers.com
NEW - LAS VEGAS STRIP HOTEL DIRECTORY! - All of the hotels in the Las Vegas Strip with price ranges and online booking discounts.
Grand Canyon Tour Company offers the BEST tours at the BEST price from Las Vegas.
- You can tour by helicopter or by bus. The great thing about this particular company is that their helicopter tour covers both the Canyon and the awe-inspiring Hoover Dam! And, today, they have some great online specials.
Special Las Vegas Hotel Discount Rates - While Vegas is a gambling paradise that doesn't mean that you have play games to get a great rate. Naturally, hotel rates in Las Vegas are their highest on Friday and Saturday nights. Rates fall significantly during the week.
TopEight.com - The eight best hotels in Las Vegas!
Las Vegas Rental Cars - If you want to drive around the Strip or take more ambitious day trips to check out the Grand Canyon or Hoover Dam you will need to rent a car. Here are some great rates.
TradeSports
- Don't have to time to get to Vegas but need to place a wager? TradeSports.com will tack on a 20% bonus to your initial deposit and take bets on everything from this week's big game to the winner of Survivor and more!